Tool Reconditioning

Even the most resilient tool is subject to wear under severe conditions. Such worn tools cannot be categorized as scrap especially modern high-performance tools which are definitely costly.

Professional regrinding and recoating with Guhring know-how reproduces the original geometries, so that the optimized quality parameters continue to be achieved, the tool planning regarding new tools as well as reconditioned tools obviously becomes a easy procedure.

With an extensive network of service centres in India we always provide this service in close proximity to you – in some cases with our own courier service collecting the worn tools and returning the as refurbished tools back to you.

Contract Coating

Cutting tool and wear parts substrates have benefited from enormous engineering advances over recent decades. Thin film coatings, when properly applied, improve tool and part characteristics and functionality. They increase surface hardness, lower the friction coefficient and thermal conductivity and provide a chemically inert surface. As a cutting tool manufacturer, Guhring offers a level of coating expertise without equal in the industry. Guhring was the first to introduce TiN coating to tools in 1980 and has remained the global leader in developing and applying new coating technology. Today, Guhring offers a full range of high performance PVD (Physical Vapor Deposition) coatings to meet customers' diverse needs.

Guhring India offers the following coatings :

    TiN (titanium nitride)
    TiAlN (titanium aluminum nitride)
    FIREX ® (multi layer)
    Nano Fire


Carbides Division

Guhring has developed and produced its own carbide in two plants especially for the precision tool industry but increasingly also for various applications not related to cutting operations, as for example in the mining and civil engineering industry, recycling industry, consumer industry etc.. This enables us to adapt the tool materials for our own carbide tools to always optimally correspond to the newest requirements.

Today, with an annual production of 1,500 tons, Guhring is one of the largest carbide producers. The product range starts with a simple 1.2 mm diameter round bar extending up to isostatic pressed rolling rolls of 360 mm diameter.

Hydraulic chuck Reconditioning

Guhring's Repair Service for hydraulic chucks It's worth it.

Insufficient clamping force of hydraulic chucks can have devastating consequences: Poor cutting speed and tool life of the clamped tools, reduced surface quality of the workpiece being machined, tool, holder and workpiece breakage. We offer you our service for ensuring the optimal performance of your hydraulic chucks – no matter who the manufacturer is. It includes a professional clamping force check by our field service department or by you – quick, without effort and within the machine or device on your premises with our SENSO 3000 clamping force measuring instrument.

Maintenance saves costs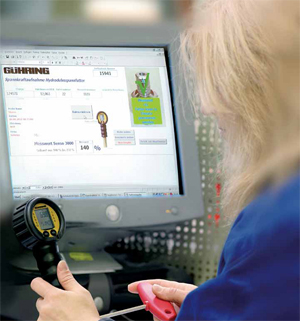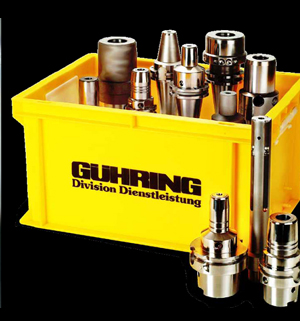 Tool Vending Machines

Everything in the best of order

Our tool dispensing systems bring discipline to your tool storage and are controlled by the GTMS storage module. Three tool dispensing systems – TM 326, TM 526 and TM 726 – satisfy your demands through modern, secure and intelligent tool storage and dispensing systems. Every individual tool dispensing system is of modular design. This allows you to choose from countless combinations of drawers, spiral units, pull-outs and compartments, where everything from indexable inserts, drilling, milling and threading tools as well as measuring and inspection equipment, assembly tools, materials and even gun drills can be stored.
Guhring Tool-Management Service (GTMS)
Flexible, lasting and professional.
To overcome every challenge in Tool Management matters we have developed the modular concept "Guhring Tool Management Service" that includes every step of tooling support, from the development to scrapping. It consists of five modules, process planning, logistics, tool application, tool maintenance and process optimization that allows you a flexible, individual and made-to-measure Tool management Service, according to your requirements.
Benefit that the Guhring Tool Management Service offers you:
• Concentrate on your own core expertise and free yourself of non-value adding activities.
• Reduce tied-up capital by lowering the stock level.
• Lower personnel costs by reducing personnel in tooling.
• Make your tooling costs calculable and transparent, minimise them over the entire life-cycle of the tool.
• Continuously optimise your processes and tools.
• Automatically benefit from all available innovative tooling technology.
• Individually assemble the performance package of the Guhring Tool Management Service according to your requirements.
• Benefit from our know-how of being market leader in the rotary cutting tool field and an expert partner in Tool Management.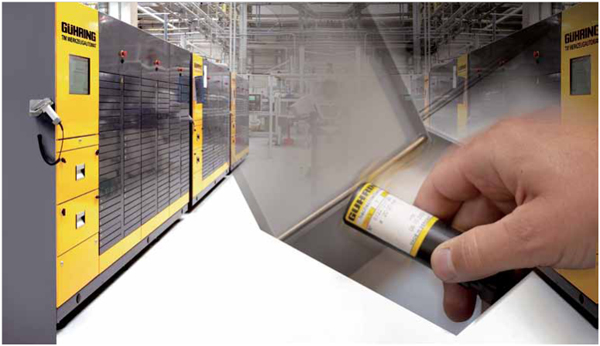 Carbide Recycling
For the good of the environment.
Sooner or later every tool will be completely worn. But what then? The high-quality raw materials are far too good to be thrown away. We provide you with an environmentally friendly and economically attractive solution particularly for carbide tools: Our tool recycling! Thanks to our own carbide technology we are in a position to recycle the valuable raw materials in the carbide and by doing so we are protecting the environment together. And you will receive hard cash for your worn carbide tools.